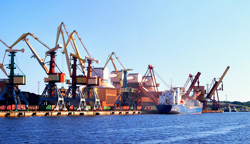 In the business of ship-to-shore unloading, ERIKS know that time is most definitely money. To be able to compete effectively on price and meet the requirements of a shipping contract, the turnaround time for loading containers from the hold of a ship, onto road transport has to be kept to an absolute minimum. The performance and reliability of the equipment being used for the loading and unloading process is therefore critical.
ERIKS put this knowledge into practice when they were called out to Dartford River Crossing to investigate the reason for two 200 tonne cranes regularly breaking down during ship-to-shore unloading, the race was on to identify the problem and rectify it in the shortest time possible, the requirement was a twenty-eight day time slot. If rewinds were needed then this would be a tall order!
Full Removal-to-Installation Service
The first problem for ERIKS, who specialise in providing a full removal-to-installation service, was to gain access to the plant room and remove the motors and generator from the crane. Designed for travelling on the Autobahns, the cranes featured a driver's cab which was situated in front of the plant room. This did not give the scale of access needed by ERIKS for the removal process.
ERIKS engineers therefore made the decision to cut off the roof of each plant room and employ additional cranage to lift out the hoist motors, swivel motors and generators.
The five motors ranging from 35hp/kw to 265hp/kw, and the 80kw generators were then taken to a nearby ERIKS branch where the full scale of the problem was revealed. Carbon build up was extensive and had led to commutator burning and carbon contamination of stators and rotors. The bearings were also found to be in a poor state. The cranes had obviously not been overhauled prior to being hired out and lack of preventative maintenance meant that carbon build up was significantly reducing the performance of the motors.
So, the motors were dismantled and all components and windings were steam cleaned. After being dried and electronically tested, the parts were re-insulated and impregnated with varnish. As part of the repair work, the commutators had to be skimmed and undercut between segment mitres. New bearings were also fitted.
Quick Turnaround
Once reassembled, the motor was the subject of stringent testing to ensure that manufacturer's standards were met. ERIKS also included dynamic balancing in their overhaul service.
Following the re-installation of the motors and generators, the roof of each cranes plant room had to be welded back on. ERIKS engineers also undertook a vibration analysis after re-installation.
As no rewinds were required, the contract - from removal to re-installation - took only 14 days, just half of the allocated time for the project. Both cranes were therefore back in use much earlier than expected, reducing downtime considerably. To find out about what else we can do to assist the Marine Industry