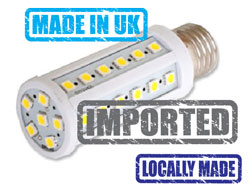 With 24/7 operation, even in areas with low occupancy, industrial lighting systems can account for a considerable portion of a business' energy consumption.
A new lighting solution can not only supply your business and employees with a better lighting system, but also reduce energy efficiency for the sake of the environment, and the bank balance too.
With a plethora of manufacturers, distributors and lighting experts ready to take your cash, care must be taken when selecting a partner to work with and suitable products that will benefit you in the short, medium and long term.
The temptation to buy online is there for anyone to take advantage of. Getting the 'cheapest deal' possible means your products begin to compromise on quality and safety.
Sometimes what you see isn't always what you get.
This blog looks at the two main problems arising from cheap imports as well as the risks of importing a low cost industrial lighting system.
Safety
From sharp edges and flossy glass coverings to exploding components and electrocution, poorly designed products using components supplied by the lowest bidder can lead to serious safety risks.
Some of these risks are outwardly obvious such as the exposed conductors visible on the corn cob LED lamp (above), but others cannot be found without disassembling the product.
The biggest issue which needs to be controlled in an LED lighting system is heat dissipation.
This is done using heat sinks generally constructed from aluminium which draws the heat away from LEDs. The result of this is a metal casing which requires additional protection to prevent it becoming live under fault conditions.
A casing as simple as this could be easily removed from the cheaper version, in order to cut costs and become the lowest price on the internet, to the detriment of you, the buyer.
Safety in this instance cannot be guaranteed.
EU Conformity

One of these is the CE mark of the European Union. The other means "China Export". Can you tell the difference?
We all know that if a product bears the CE mark, it's safe. The reason for this assumption is that goods with CE marking demonstrate that they meet relevant and strict EU standards.
This marking brings benefit to all in the supply chain and most notably, you, the end user.
Unfortunately, there exists a very similar mark which the majority of consumers and even sellers may see as the CE mark of the European Union but actually is something completely different.
This alternative "CE" mark (below) means "China Export" and only means that the product was manufactured in China.
It is believed by various organizations that this similarity is not a chance coincidence and that this expresses an aggressive approach to sell into the European market without the right standards.
The problem has been shown below by the ICQC, International Center for Quality Certification.
As you can see that the letters in the "China Export" logo are sitting very close to each other and bear a striking resemblance to the official European marking.
This is the one to watch out for. It wouldn't be too difficult to mistake it as the genuine Euro standard mark. The China Export logo is not registered; it does not confirm positive test results and is placed by Chinese manufacturers arbitrarily.
From both the inside and outside, the lighting industry can be confusing at times. The 'CE' mark is a typical example of this and another warning to you, the end customer, not to go it alone in the industry – get expert help.
Invest in the Right Equipment
Safety and conformity to regulation are vital in a professional industrial business. The best way to avoid poor equipment is by speaking to an industrial lighting specialist who can advise on the most ideal solution for you.
ERIKS Lighting Solutions can provide you with, comprehensive, professional advice, tailor-made solutions, product recommendations to suit your requirements, a full range of value-added services and a payback report detailing achievable energy and cost savings. For more information, get in touch with with ERIKS Lighting Solutions.
Click below to download our e-book on Claiming ECA for Lighting Projects
Related Posts: