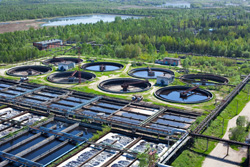 With up to 87% of the total life cycle cost of a pump attributed to energy, it is imperative that your water treatment plant pumps are running efficiently and effectively to reduce unexpected costs.
Efficient pumps are also reliable pumps!
Check out the ERIKS pump management and best practice guide to help you ensure you are getting the most from your water treatment plant.
Installation
Establish and maintain performance data on all new pumping plants when installed. Benchmark all new and refurbished equipment. Install pressure gauges on both suction and discharge pipe work. Where filtration is utilised, install differential pressure monitoring. Carry out impeller clearance checks while de-ragging.
Predictive Maintenance
Undertake periodic monitoring of operating head and closed valve readings (where appropriate). Record running amps as part of any CBM data collection. Record maintenance and repair data to establish MTBF records. Record running hours at every site intervention and log entry.
Energy Reduction
Assess all pumping systems for energy reduction. Identify any system that utilises a mechanical means of restricting or balancing flow. Any pump system that has a varied load or demand has the potential for energy savings through the use of variable speed drives, however be aware of minimum velocity requirements on waste water applications.
Replacement
Never replace a pump set with "like for like" without re-assessing the duty requirements. The system may have since changed; the original pump may not have been correctly specified or be fit for purpose.
Check out the short video for ERIKS pump and water treatment services.
Related Posts: