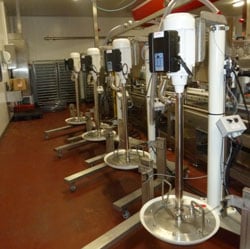 If you use any kind of liquid other than tap water on your site, here's a problem you'll face on a regular basis. How do you easily and safely get the liquid out of its delivery container to where you actually want to use it?
It's almost certainly been delivered in a drum or barrel - typically 5L or 25L carboys, 200l drums or IBCs. That's convenient for delivery and storage, but not so convenient for getting the liquid out.
The containers are too big to tip and pour from, and if they're full of toxic chemicals or flammable liquids that's not a safe option anyway.
So how do you beat the drum challenge?
Save the pour
To get the liquids out of the container, the first thing you have to do is put something in: a specially designed, portable Lutz container pump.
With a Lutz pump to do the job you can eliminate:
Manhandling the heavy container

Pouring and associated risks of
- Spills
- Splashes
- Toxic vapour inhalation
- Injury
- Explosion
You may be aware of ERIKS' commitment to Zero Harm, Zero Injuries, Zero Compromise and Zero Accidents. We strive to achieve these targets on our own sites and when working on customers' sites, and we encourage the use of equipment which helps customers to meet these goals. Lutz container pumps match the requirements of best practice in every respect and make a significant contribution to employee safety.
With a Lutz pump you can also be sure you pump out every last drop of liquid, so there's no wastage.
Built for the job
The full range of liquids suitable for transferring from barrels, drums or other containers using a Lutz pump extends from acids and alkalis to pharmaceuticals and food products. (A full list can be found here.)
However, it's not a case of "one pump fits all." Lutz's knowledge and expertise have been applied to developing specialist pumps to meet specific criteria for pumping media and operating environments.
For example, explosion-proof Lutz drum pumps are designed to provide optimum protection when handling easily inflammable, combustible material, and when working in potentially explosive environments. With a choice of several explosion-proof electric and air-driven motors, and available in mechanical seal or seal-less construction, they comply with all international standards and provisions (UL, PTB, VDE and CE), and with directives according to ATEX 2014/34/EU (category 1/2).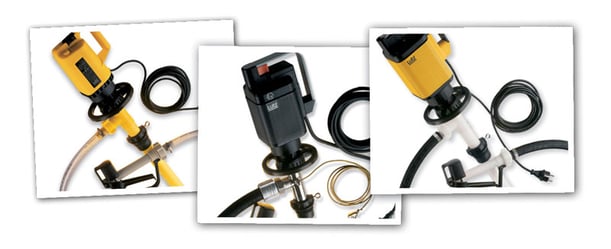 For the food, pharmaceutical, and cosmetics industries, there are Lutz pumps which meet the latest 3-A standards for hygienic design, being free from potential bacteria traps. All connections in contact with the medium are thread-free and manually detachable, and the whole pump is quick to dismantle and easy to clean, with all construction elements easily accessible for inspection and service.
There are also Lutz pumps specially designed for use with hazardous liquids, AdBlue®, alternative fuels, viscous liquids, and for use in the laboratory and research sector.
Choose your pump
With so many pumps to choose from, it's important you specify correctly to get the most effective pump for the job.
You will need to consider your:
Medium to be pumped (to ensure chemical compatibility of pump materials, or suitability for flammable liquids)

Required head (higher pressure is need to pump to the top of a machine or a higher floor)

Required flow (larger containers need a faster flow rate)

Tube length (depending on the container depth)

Motor type (electric, explosion-proof etc.)
In fact, with so many Lutz container pump choices available, your best option is to contact your local ERIKS Distribution and Engineering Service Centre, for unparalleled pump know-how and advice.
Related Posts