An open cast mine operator in Germany mines coal, which is estimated to be around 30 million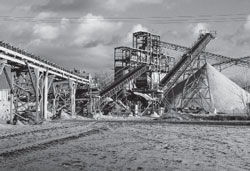 years old, however it was the two brief years the bearings on its conveyors were lasting which was one of the operators most pressing concerns.
There are 250km of conveyors on the site, operating – like the mine – round the clock, 365 days a year. The longest section is 5.6km, and each section incorporates around 40 bearings, in the head and tail pulleys and the bend rolls. The conveyors transfer approximately 240,000m3 per day of mined coal, and move approximately 500 million tons every year of other material, that's been extracted and is then used to rebuild the mine.
Grease was the word
The bearings used by a coal mine operator on the conveyors were open spherical roller bearings, which were continually failing. The working environment at the mine is by its nature highly contaminated with dirt, grit and other foreign bodies, all of which frequently found their way into the bearings, causing repeated failures and downtime. Downtime in any process obviously has a negative effect on productivity, but in a non-stop operation it's catastrophic.
As a stop-gap measure, the customer's maintenance engineers frequently applied large amounts of grease to the bearings. However, this not only created an unwanted cost, but also caused additional problems and expense in terms of disposal, and raised concerns relating to Germany's strict environmental regulations.
Doubling the duty
One aspect of conveyor maintenance is lagging rework on the pulleys. With the aim of minimising downtime – and achieving a target 3% reduction in operating costs – the coal mine operator called in SKF to see if they could find a solution which would keep the bearings operating until the lagging rework was required.
SKF application specialists suggested a test of sealed spherical roller bearings on the bend rolls, to replace the existing open versions. As well as installing SKF 23228-2CS5/VT143 sealed spherical roller bearings, the housings were filled with grease (for life), and a labyrinth seal was added at the end of the roller.
The longer life enabled the coal mine operator to achieve its goal of performing bearing maintenance at the same time as lagging rework. Additional benefits included cost savings on used grease disposal, and a reduction in bearing mounting time from four hours to two. This also meant a reduction in downtime, and enabled maintenance engineers to gain time to spend on other critical tasks.
While the previous open bearings typically lasted an average of 730 days, the SKF sealed solution lasted more than four full years – a 100% increase in service life.