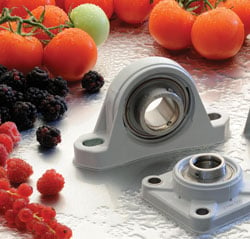 Automation and contamination don't have to go hand-in-hand in the food industry, says David Oliver, Food and Beverage Segment Manager at SKF.
Just because food products are edible doesn't make them that different from any other manufactured items. They still have to be made quickly, efficiently and within budget. Which naturally demands automation, which in turn demands machines to be lubricated.
Where food differs from others products is that lubrication brings with it a risk which is one of the industry's biggest headaches: contamination by machine oil or lubricant. However, there's not one but three ways around the problem, to ensure machinery can be lubricated and food produced without risk of contamination.
Firstly, you can use food-grade grease. Secondly, you can seal components so tightly that leakage is almost impossible. And thirdly – in some cases – you can remove lubricant from the process altogether.
Oven-ready lubrication
Wafer baking ovens are used by confectionery producers for high volume production. Conditions for the process are punishing, and in a typical application one manufacturer had to relubricate the oven's deep groove ball bearings with high temperature grease every 16 weeks.
This meant costly planned maintenance, a limit on output because of the oven-temperature restrictions of grease-lubricated bearings, and – not least – the ever-present risk of grease leakage affecting food safety.
To solve all three problems in one, SKF installed high temperature wafer units, incorporating graphite-based lubrication for continuous lubrication of the bearing. These boosted cost effectiveness and productivity by:
eliminating re-lubrication. The wafer units ran for four years round the clock

eliminating the cost of high-temperature grease

saving 150 labour-hours annually, and 26 hours of planned downtime every 16 weeks

increasing output, as graphite lubrication enables a higher process temperature
Tightly sealed
If water, detergents and contaminants penetrate seals during washdowns, bearings can fail in as little as six months. So another way of mitigating the risk of contamination is to tightly seal away the bearing and lubricant.
SKF Food Line Y-bearing units, for example, are re-lubrication-free, and designed for the wet, humid environments of food and beverage processing. Featuring the industry-proven 2RF seal, they keep out high pressure water during washdowns, as well as other sources of moisture and process contaminants.
With no need to purge water and contaminants by re-lubricating after washdowns, bearing lifecycles are increased, and downtime, maintenance costs and environmental impact minimised. With excess lubricant kept out of plant wastewater streams, wastewater treatment costs are reduced too.
SKF Food Line Y-bearing units have a well-radiused, non-porous, cavity-free surface, for easier cleaning and reduced risk of bacteria accumulation. Several housing shapes are available, in corrosion-resistant composite material or stainless steel. Composite housings are up to 60% lighter than their cast iron equivalents, and resistant to substances such as citric acid. Stainless steel housings are suitable for applications with heavy or shock loads.
A poultry processing plant swapped hundreds of their nickel-plated cast iron bearing units for SKF composite Y-bearing units.
The old bearings had needed replacing every few months due to grease washout and corrosion. But SKF units – with stainless steel bearing inserts and a special multi-lip seal to prevent grease displacement and water ingress – increased bearing service life by four times.
12x longer lubrication interval

4x longer service life

Lubricant leakage eliminated
Solid performance
Another way of preventing grease leakage is to change the form of the lubricant.
SKF bearings with Solid Oil are designed to be re-lubrication-free, and suitable for wet environments. Solid Oil is a polymer matrix that remains trapped within the bearing and – unlike semi-solid lubricants – can't be washed out by high-pressure washdowns.
One customer found that even sealed, greased for life stainless steel deep groove ball bearings were suffering water penetration and grease leakage, because the seals were deflecting during washdown.
Lubricating the bearings with food-grade Solid Oil immediately increased bearing service life from 12 weeks to two years, slashed maintenance costs, and virtually eliminated lubricant leakage.
The challenge of balancing high output with high standards of hygiene is a continuing one for food processors. Keeping control of bearing lubricant can tip the balance in the processors' favour.
Related Posts