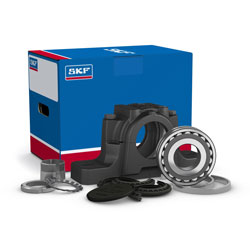 The all-in-one SKF Housing Kit, with pre-matched components, simplifies the process of developing a bearing system.
Rotating components, such as bearings, must be protected if they are to enjoy long, productive lives. A proven way of doing this is to use bearing housings – modular assemblies that streamline bearing and shaft installation while boosting protection, extending operating life and simplifying maintenance.
However, researching and ordering the component parts of a bearing housing unit can eat up time and money. Bearing housings are available in many sizes and categories – and that's just the standard range. Any non-standard designs – which might include special shaft centre heights, or unusual sealing arrangements – add further complexity.