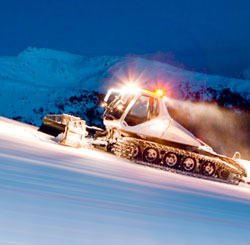 When the going get tough and temperatures hit sub-zero, the meet the beast, Loctite adhesives save you time and money.
This powerhouse is responsible for grooming ski slopes at night when others are enjoying their après-ski. It operates in temperatures around 30 degrees below freezing on slopes that can be more than 45 degrees steep and for this performance it relies on Loctite engineering adhesives to secure components and seal hydraulics.
Although such extremes are not the norm in the UK, for any enterprise reliant upon plant and machinery for the smooth running of their business, the winter months bring additional risk. Mechanical failure costs time and money; dismantling and overhaul, overtime, hire of temporary plant, replacement parts - or in the worst case, the machine itself – and loss of profits. Far better to avoid failure right from the start through preventative maintenance with MRO adhesive products that are truly fit for purpose.