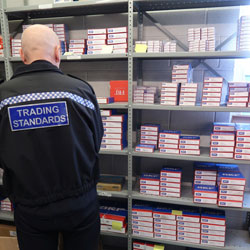 SKF has participated in a raid against a company trading counterfeit bearings in the West Yorkshire area.
A raid, led by members of the West Yorkshire Trading Standards authority alongside staff from SKF's Brand Protection Team, has resulted in the seizure of counterfeit bearings which otherwise could have been sold on to unsuspecting industrial customers and end-users. Several thousands of bearings, of more than170 different types and sizes were seized, with an estimated total weight of 1.5 tons. A wide range of products was seized, including items used in automotive applications as well as industrial machinery.
During the raid, SKF learned that counterfeit goods had been sold on to many customers in the UK by the non-authorised distributor. Bearings from other brands, allegedly sourced from the same suppliers as the counterfeit SKF products, are also suspected to be non-genuine.