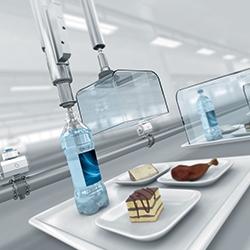 Food and beverage manufacturers want to have the best of all possible worlds: optimum cost-efficiency, combined with consistently high standards of hygiene, and exceptional flexibility for product, packaging and pack size variation. When you not only want to make your cake, but have it and eat it too, process and factory automation technology solutions from Festo can help.

Continuous production processes need to be reliable as well as efficient. The most effective way of ensuring both is through automation – of mixing and stirring, sterilisation, pasteurisation, homogenisation, filtration, dosing, weighing, filling and storage.

Semi-rotary actuators and linear drives, powered by high-quality air prepared to ISO standards, can open and close process valves throughout the plant. The air quality also plays an important part in ensuring hygiene, and in optimising the reliability and life of the control system.