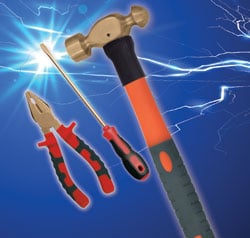 If you're holding an ordinary metal tool in your hand in a potentially explosive environment, you might as well be holding a match.
All it takes is a single accidental contact and you could create a spark that ignites the vapours, liquids or dusts present in the atmosphere – with a bang!
That's why ERIKS, with our Zero Accidents Policy and commitment to take safety seriously, recommend and supply the extensive RX range of non-sparking safety tools. From commonly used tools like hammers, spanners and screwdrivers, wire brushes and wrenches, to more specialist items like pipe wrenches, wire strippers, hexagon keys and wrecking bars, the RX non-sparking range allows you to work as normal even in an ATEX zone.
And with no risk of creating a potentially catastrophic spark.
Safety – and comfort – first
The RX range of non-sparking tools builds on years of experience in the design and manufacture of standard tools. So you can be sure that safety doesn't compromise comfort, and usability.
In fact, all the tools in the non-sparking range are forged after casting to ensure their quality and durability, and ergonomically designed for comfort and effectiveness in use.
For example, the range includes:
Screwdrivers with a two-component handle to ensure a firm grip

Ring spanners with a 12-point bi-hexagon ring for easy alignment

Pliers with hand guards for extra user-protection.
So these are not only some of the safest tools for use in potentially explosive environments, but also some of the most comfortable and efficient tools to use anywhere.
Certified non-sparking
To eliminate the risk of spark production, tools in the RX non-sparking range are made from either:
Copper-Beryllium (Cu-Be) or

Aluminium-Bronze (Al-Bron)
These are both certified non-sparking alloys. Cu-Be tools can be safely used in all ATEX zones except those where acetylene gas is present, whilst Al-Bron tools can be used in all zones except IIC hydrogen, acetylene, ethyl nitrate.
Acetylene reacts with copper to create highly-explosive acetylides, so no tools with a copper composition higher than 65% should be used where acetylene is present. However, if you require tools for these conditions, contact ERIKS for advice and information on RX tools made from an alloy specially developed for this type of environment.
Cu-Be tools in the range have a higher hardness and tensile strength than Al-Bron alloy tools, making them able to withstand greater use and higher loads. The non-ferrous composition of the Cu-Be alloy also means these tools are safer in non-magnetic applications than Al-Bron, which has a minimum non-ferrous composition, so is not 100% non-magnetic.
Better safe than sorry
The tools used in a potentially explosive environment are only part of the safety story.
It's also essential to consider all other products and materials you intend to introduce into the environment, to ensure they don't have the potential to create sparks and cause ignition. You can find out more about working in explosive atmospheres with useful advice from the Health and Safety Executive.
ERIKS' commitment to safety and zero accidents means we take safety very seriously, and can offer expert help and advice on every aspect of working in a potentially explosive environment – as well as supplying you with the safest and most effective range of tools for the job.
Download the RX non-sparking safety tools range brochure here, or for more details contact your local ERIKS Service Centre on 0845 006 6000.
Related Posts