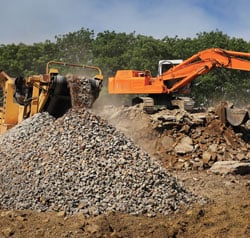 Everyone wants maximum productivity and reliability from their quarry plant and equipment but it's a difficult task due to the harsh environment and machinery is subject to heavy vibration, shock and corrosion.
Nuts and bolts shake loose, hydraulic and pneumatic systems leak and bearings fail.
LOCTITE® engineering adhesives and product systems for equipment build, repair and maintenance are available to rectify problems caused by wear, abrasion, erosion, corrosion and mechanical damage.
Typical applications range from extending the operating life of devices like pumps, gearboxes and bearings to concrete repair. Many of the products are used at OEM level, such as at Terex, in the manufacture of their equipment including the Terex Rigid Dump Truck. Another use is tunnel boring equipment, where failure due to vibration loosening is not an option.
Extending service life
Vibrational loosening is a major contributing cause of failure leading to expensive downtime of quarry equipment such as crushers, screens and feeder systems. Prevention is easy with LOCTITE threadlockers, available in a range of viscosities and strengths, from semi-permanent wicking products to low strength formulations that are removable with standard hand tools, yet all have good vibration resistance.
Costly hydraulic and pneumatic leaks are also caused by the hostile environment and can be eliminated using LOCTITE sealants. They fill the space between threaded parts providing an instant, low pressure seal. When fully cured they seal to the burst strength of most pipe systems. As with the threadlocking products, thread sealants also provide very good vibration resistance making them ideal for use on excavators, dump trucks or static equipment.
Complementing the above are LOCTITE retaining compounds to secure bearings, bushes and cylindrical parts into housing and onto shafts. They achieve maximum load transmission capability and uniform stress distribution and eliminate fretting corrosion. A major benefit of this technology is they allow new bearings to be fitted into worn housings, typically found in quarry equipment, allowing the equipment to be put back into use more quickly without having to wait long lead times for new parts.
Better and better
All LOCTITE products are continually developed to improve their overall performance and extend their suitability for a wide range of applications. Many products are now rated for higher temperature use and are more tolerant of surface contaminants. A typical example being when repairing and maintaining equipment on site where complete degreasing ad cleaning is not always possible
For more information and further support contcat your local ERIKS Service Centre on 0845 006 6000.
Related Posts