Predictive Maintenance Solutions, keeping your site up and running, reducing unnecessary downtime and in turn ensuring increased productivity levels.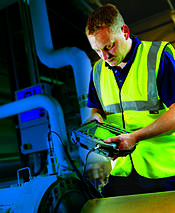 At ERIKS we understand the importance of the surveillance, protection and healthcare of key assets and condition monitoring plays a big part in this. Moving from reactive maintenance to predictive maintenance can mean big benefits for your site.
With different levels of condition monitoring available, you need to ensure you have the right solution suited to you and your site, dependent on the criticality of your assets.
Choosing the right level of care
ERIKS has an expanse of knowledge within condition monitoring, where we have different solutions to suit all different customers.
When choosing the right level of condition monitoring, the criticality of an asset must be correlated against the amount of time it would take for the asset to fail, with the more critical assets better suiting the higher end condition monitoring solutions.
The entry level systems can indicate trends and set off alarms when something is wrong with an asset, sending out text or email warnings, which is a great cost effective solution giving a less critical machine the correct level of warning and protection - known as the ERIKS Asset Guard System.
More advanced systems such as the ERIKS Asset Guard PLUS, give continual readings with trend identification and alarms. It can also provide you with asset performance data, safe shut down plus diagnostic and prognostic evaluation when linked to the ERIKS Know-How Cloud, all of which helps ensure optimum asset performance and protection.
Valuable data
The data collected from a condition monitoring system can be useful to a variety of people within your busines not just to the Maintenance Engineer. For example, it allows the Finance Department to understand the assets running and repair costs; it aids the Plant Manager in production and maintenance scheduling and allows the Engineers to retrieve asset statistics and remotely supervise the asset.
For more informtaion on our Condition Monitoring capabilities,
Related Posts: