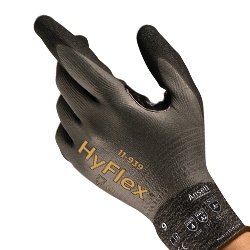 Automotive technicians need protection from oil and grease when performing daily tasks with sharp objects and greasy tools. Some gloves have the tendency to become saturated, leading to increased injury risk and decreased grip control. In the worst situations, saturated gloves become so uncomfortable that workers lose their focus or remove their gloves, putting themselves at risk for cut injuries.
Too many workers today put up with the distractions and potential consequences caused by uncomfortable or inadequate gloves. Over time, it is a situation that has become their new normal – their default comfort zone. Automotive technicians need a better combination of protection, durability and performance in a lightweight wearable glove to successfully complete everyday tasks – and stay safe. And thankfully, Ansell has the solution.

The Solution
The HyFlex 11-93x Series offers the lightest weight, cut resistant and oil repellent gloves on the market.* This full line of technology-driven gloves is redefining what is possible in both safety and comfort for technicians. With a coating that is up to 40% more durable* and a thumb crotch region that is up to 12 times more durable**, the HyFlex 11-93x Series helps to ensure workers will not worry about gloves wearing down. When combined with the added benefits of an uncompromised grip and comfortable wearability, workers can spend the day focused on the task at hand instead of their gloves.

Common Automotive Applications

Handling of sharp components coated with oil and grease

Assembly of engine and transmission drive trains

Light metal presses

Machining and finishing

Primary and final assembly

User Benefits

Multi-risk protection in dry to oily applications

Strengthened failure zones and dry hands

Ultra-lightweight design for all-day comfort

Improved grip performance for safer handling

Increased durability for extended use life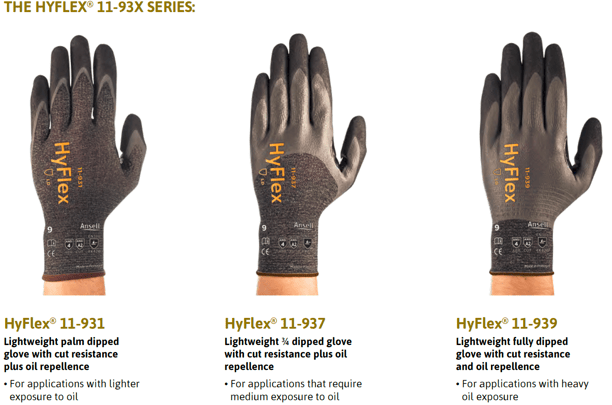 * vs 2016 competitive set
** vs unreinforced glove equivalent
Want to know more? Contact your local service centre on 0845 006 600. Or if you're attending the ERIKS Innovation Excellence event at the MTC, Coventry, 3rd October 2017, visit the Ansell Stand.
Related Posts