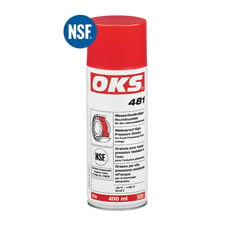 When a lubrication point is hard to access, how do you lubricate? And when it's a food industry application, how do you lubricate with an NSF registered lubricant? OKS has the answer, in an aerosol.
When they need a proven, food-safe, waterproof high-pressure grease, many people already choose OKS 480. Now OKS 481 provides all the same benefits, in a 400ml aerosol. That means you can apply a fully synthetic, NSF H1 registered grease even to the trickiest lubrication points.
Suitable for high loads, pressures and temperatures, OKS 481 is perfect for bearings that have contact with cleaning agents and disinfectants, and on mechanical units like levers, joints and hinges.
Once applied, it's resistant to washouts by chemically treated water, has high shear stability, and provides excellent wear protection.
Suitable for application temperatures from -30°C to 160°C, OKS 481 is the ideal alternative to OKS 480 when you need to grease even where you can't.
Related Posts