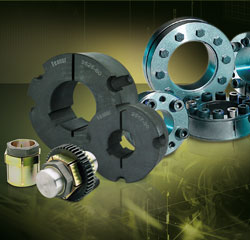 There are as many different shafts are there are different drives. But making sure you have the right shaft fixing for the right shaft can make all the difference to efficiency, shaft and drive life, maintenance time and downtime.
Shaft fixing solutions range from the simple to the more complex, and from small to large shaft diameters, and low to high torque applications. The key is to pick the most effective solution that's made for the job.
Fenner, for example, offer a choice of three different smart shaft fixing solutions.

Over 60 Million Applications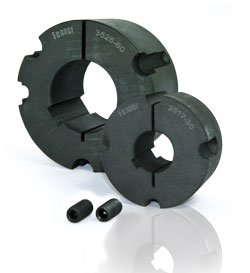 To date, Fenner Taper Lock® Bushes have been tried and tested in over 60 million applications worldwide. This makes the Taper Lock® 4-hole bush the most successful shaft fixing in the world.
One of the many reasons for its success is its ease of installation and removal. This minimises labour time and costs, and reduces the need for downtime too. Offering a full range of metric and imperial bores, the Taper Lock eliminates the need for re-boring, which is another time- and cost-saving.
The unique 4-hole design of the Taper Lock reduces vibration for balanced assemblies. This in turn helps to reduce noise, wear and other problems.
Made from high grade, close-grain grey iron or steel, the Taper Lock is designed exclusively for use with Taper Lock bored pulleys, sprockets and couplings. An off-the-shelf solution, it is available for:
Shafts of 9-125mm diameter

Up to 7,400Nm transmission


Extreme Duty Solution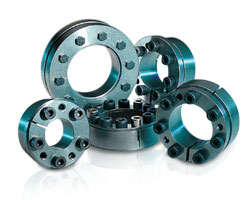 FenLock™ Cone Clamping Elements are a wide range of keyless shaft and hub fixing assemblies.
They're designed for extreme duty, high torque transmission shaft fixing, and offer the ultimate solution for arduous equipment, where high reliability is essential.
Simple to install initially, they can subsequently be removed and installed many times without any effect on their performance – making them ideal in situations where disassembly is frequent for maintenance or cleaning. They are also ideal if the operating environment is a highly contaminated one, due to their enclosed design, which eliminates any ingress of contaminants.
Designed to accommodate infinite axial and radial positions, the FenLock Cone Clamping Elements can be utilised in a huge range of applications, for:
Shaft sizes of 6-900m diameter

Transmission of up to 1,650kNm.


When Timing's Critical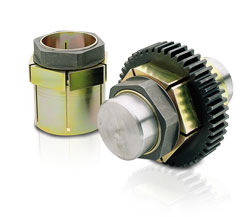 The last of the Fenner Smart Shaft Fixing solutions is the Fenner TranTorque GTR, which provides fast, accurate single fastener shaft locking. It's ideal for high power or critical timing applications, as well as for quick change parts or assemblies.
Offering precise radial and axial adjustments on shafts, the TranTorque GTR is self-centring, so doesn't require a location diameter to retain concentricity. It also offers a mechanical shrink-fit, which eliminates backlash, fretting corrosion and key wallowing.
This particular shaft fixing solution can also be used directly over empty keyways, to repair a worn or damaged connection. The Fenner Trantorque is available in two versions:
Trantorque Mini
5-16mm shafts




Up to 50Nm transmission
Trantorque GTR
15-75mm shafts

Up to 2000Nm transmission
More Solutions, More Savings...
Whether you need to save time on installation, maintenance or repair, or save yourself the problems of vibration, contaminants, key wallowing or more, there's a Fenner Smart Shaft Fixing Solution to do the job. To find out more, simply contact your usual Fenner supplier or ERIKS service centre.
Download a copy of our shaft fixings range flyer
Related Posts: