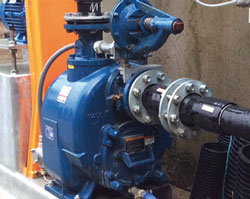 When New Earth Solutions - a waste treatment and renewable energy specialist - needed a new pump, it had to be an efficient, reliable, and sustainable solution, with the help of Hydromarque Ltd, ERIKS came up with the goods.
The customer's existing Flygt submersible pump, situated in a pit to pump leachate, failed frequently. When the pi overflowed as a result, tankers were needed to take away the leachate, at a cost of £10,000 per year. And when the pump needed its frequent maintenance or repair, it had to be removed - requiring access to the pit, which in turn required specialist training and equipment.
ERIKS answer was a pump which looked good - on the surface.
The One and Only
Supplied by the sole UK and Eire agent/stockist for Gorman-Rupp pumps- Hydromarque Ltd. of Peterborough - the Gorman-Rupp Super T Series is a surface-mounted, fully self-priming, suction lift, solids handling pump. As the leading Gorman-Rupp range, Super T Series pumps have a robust construction (available in standard cast iron, 316 SST trim, full CD4MCu SST and G-R ADI Hard Iron), combined with extremely reliable and simple operation. The top-mounted pump can be maintained using common hand tools, without removing the pup or entering the pit- which also eliminates the need for overhead lifting equipment.
5 Days to 25 Years
From the initial site survey by ERIKS and Hydromarque, to setting, supplying, installing and running the pump took just 5 days.
The average life of a submersible pump would be around 5 years, but Hydromarque still have Gorman-Rupp T Series pumps in the field up to 25 years. So the customer not only got a reliable pump, but also one which helps to meet their carbon reduction and sustainability aims.
As well as saving the earth, they saved a fortune. Based on the capital cost of the new pump compared with the constant refurbishment and tankering costs of the old installation, New Earth Solutions will see payback in just nine months.
Related Posts