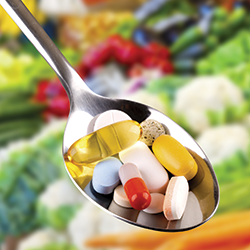 Responding to changing demand, seasonal trends and even the legislative landscape, can present a herculean task for businesses but what can the food & beverage industry and the pharmaceutical sectors learn from each other, if anything?

A closer look at the food and beverage industry
In an increasingly consumer focused society, the food and beverage industry is facing increasing pressure from a number of channels, which in turn is placing a greater strain on manufacturing processes.
The food manufacturing industry abides by stringent health and safety measures, including infection control – ensuring that all bacteria such as e-coli, salmonella and listeria are killed before coming into contact with any food items. Bacteria is obviously a living organism and will find a way to survive and reproduce which is a potential risk factor for many food processing plants. Cleaning therefore is rigorous and often takes place periodically throughout the day, to ensure food safety standards are maintained.
Where things get interesting is when new products and systems join the production line and how businesses flex to incorporate these changes day-to-day. Looking to the wider market, a food-on-the-go lifestyle means consumers are demanding greater choice than ever before, with smaller portions that are packaged suitably for eating while out and about.
Other important factors include healthy eating and more importantly government legislation that is calling for a reduction in fat, sugar and salt within our foods. In some instances, product sizing e.g. a 20 per cent reduction in the size of chocolate bars, has been reduced to help curb unhealthy lifestyle habits. What's key here is not only the changing demands on the processing equipment for these items, but also how these factors influence the finished product.

As most bakers will know, reducing sugar and salt content can drastically affect the taste and look of the finished product, but it's important to remember that these ingredients also act as preservatives. Industry faces numerous challenges in this increasingly consumer centred society – keeping up with changing demands, while finding new ways to create old favourites, with a similar shelf-life.

Pressure on production facilities is also increasing and many of these issues are exacerbated by legacy equipment within the manufacturing plant which can be hard to flex and change to meet requirements. In reality, while the major manufacturing players aren't going to disappear, the smaller local firms are well positioned to meet this constantly changing demand but for how long?

A closer look at pharmaceuticals
The pharmaceutical sector is changing fast and there are numerous pressures and challenges ahead, not least with Brexit negotiations and the continuing financial pressures within the health service.

While talks continue around more structured pricing agreements, other topical issues for the sector remain about R&D and more crucially the Accelerated Access Review, which aims to introduce what is described as 4-6 transformative technologies to market. The exact nature of these technologies is currently unclear and it could be drugs or technology – either way, the sector is waiting with bated breath. What is concerning, is that NHS England continues to tighten its grip on budgets and this will mean that the pharmaceutical industry is set for further change.

Regulation of the industry however remains tight and fully assured and while governance may be altered, as a result of Brexit, the industry can rest assured that stringent regulation will remain. One key aspect being the hygiene of the manufacturing processes, in order to minimise risk of contamination. Here both the pharmaceutical and food & beverage industry draw some comparisons in cleaning, both achieving agreed levels of hygiene in accordance with written procedures. In addition, records must be kept as a form of validation in the event of any future problems.

In the pharmaceutical industry however, the scope of the clean must go to a microscopic level, highlighting the importance of maintaining excellent facilities and equipment that are properly maintained and calibrated. This is imperative within an environment where contamination poses a real risk for the medical effectiveness of the finished product. Regular inspections and risk assessments ensure that all products meet with stringent regulations including the EU Good Manufacturing Practices.

The two sectors may be seemingly disparate on the surface, yet the same issues are at play across both. In fact the two are intrinsically linked, particularly as we grow to understand more about how lifestyle habits impact upon some of the major diseases in today's society such as diabetes, food allergens and intolerances and even potentially cancers. In fact, one of the greatest threats to human health is in fact the rapid growth and evolution of viruses – focussing attention back onto the topic of hygiene and mitigation at source.

In short, as two of the leading sectors within the UK economy, there is much to gain from shared experience. While there may not be a single recipe for success, the gap between the two is closing in some aspects, and there is much to be learned. Health foods are a perfect example and perhaps in coming months, we will see some closer collaboration between the two sectors, in the development of new health food products that help to tackle the growing health crisis in the country. Perhaps therefore it is time we stop looking at the differences and consider how each sector can support one another.
Related Posts