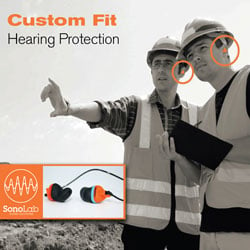 Can you name the industrial injury which affected an estimated 15,000 people in the UK last year?
It's an invisible threat, yet ever-present in industries ranging from construction to engineering and manufacturing. Many of the protection methods available are:
Ineffective
Costly
Wasteful, or
Simply ignored
The answer is noise, and hearing loss isn't the only problem it can cause.
It can drown out warning sounds such as reversing warnings on forklifts or lorries. Prolonged exposure to loud noise can cause fatigue and loss of concentration – a danger when working with process machinery, for example. And it can make essential communication between employees more difficult, leading to potentially dangerous mishearings and misunderstandings.
There are some solutions available to help protect against industrial noise and its associated risks and effects, but all with their own disadvantages.
Not listening
The biggest problem with the most common type of hearing protection is discomfort.
Earphones can be effective, but only when they're worn. And it doesn't matter how often employees are reminded of the need to wear them: if they're uncomfortable to wear for long periods, then they won't listen.
Disposable ear plugs are slightly less uncomfortable, but they're a one-size-fits-all solution: which usually means they fit everyone just as badly. They provide less effective protection than earphones and, as a disposable product, are hugely wasteful and costly.
The third option is the most effective, most comfortable, and most cost-effective. However custom-fit earplugs have traditionally required taking an impression of the individual's ears, which is then sent to a laboratory for manufacturing. It could be days, or sometimes weeks, before the made-to-measure earplugs are delivered and ready to use.
But now there's a solution which cuts that time from weeks to minutes, saves employers significant sums over disposables, and is so comfortable employees are happy to wear it.
Tailor-made protection in minutes
Sonomax™ custom-fit hearing protection uses a custom-moulded earplug which can be made on-site in just 5 minutes. Employees can even make them for themselves!
Because they are made to fit the specific shape of each individual's ears, Sonomax earplugs are extremely effective, and extremely comfortable even when they're worn all day, every day. And because they are worn every day – not thrown away after a single shift like disposable earplugs – they represent a huge cost-saving over the life of the earplug. A life which is guaranteed with a substantial 2-year warranty.
Providing on average a 30dB PAR (Personal Attenuation Rating: essentially the level of noise filtering provided), Sonomax earplugs can be tested for attenuation, and an industry accredited certificate issued for each employee – proving the individual level of protection you're providing.
To hear more about the benefits of Sonomax custom-fit hearing protection, please contact your local ERIKS Service Centre on 0845 006 6000.
Related Posts