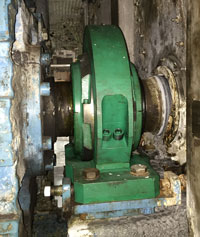 Many would agree that time and reliability are crucial in an industrial environment so… looking into utilising these resources better is an area for improvement for a number of businesses nowadays.
One of the recent projects that ERIKS' got involved in shows how choosing the right product for the right application can make a difference and ensure significant savings in terms of costs, time and effort.
Situation
A paper manufacturing company has a number of disc filtration units on-site for the dewatering of pulp suspensions. These are driven by a shaft mounted gearbox captivating the bearing between the gearbox and side wall of the disc filter unit. The entrapment makes bearing changeovers much more difficult and lengthy – up to 4 hours were needed for removal and re-mounting of gearbox alone.
Even on a planned shutdown, a team of 2-3 mechanical fitters took up to 12 hours to remove the gearbox, remove the existing bearing and plummer block, re-mount a new bearing with existing plummer block and re-mount and tension the shaft mounted gearbox. All this resulted in lost man hours for the company that could be utilised better elsewhere across the plant.
Solution
ERIKS, an Authorised Distributor for Revolvo bearings, offered a Revolvo SNQ bearing solution. The SNQ Bearing would allow the customer to inspect the internal geometry of the bearing for analysis and performance of the bearing, grease and seals. Furthermore, a full change of bearing and seals would take approximately 2 hours in future.
By offering the new SNQ bearing assembly ERIKS presented the customer to further reduction in maintenance time, a superior sealing solution which was developed for such applications, a more user-friendly bearing assembly and the facility for the customer to perform basic condition monitoring of the bearing in line with current preventative maintenance measures on-site.
Since the installation, the SNQ assembly has achieved its trial validation period without issue and a discussion on the balance of 5 further disc filters will now begin based on performance.
To find out more about Revolvo, a Timken Company, click here.
Related Posts: