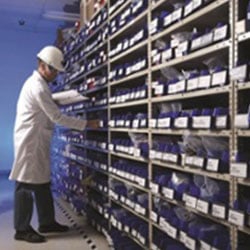 Efficiencies, productivity and profitability are usually terms saved for your production lines. However as stockrooms up and down the country are becoming less effectively used, we must shift our focus onto these potential financial black holes.
With companies regularly facing small daily inefficiencies, overtime this adds up ultimately effecting their business operations.
Andy Silver, ERIKS IS Commercial and Operations Director for the UK, stresses the importance of an 'effective storeroom management'. By implementing a better layout, housekeeping duties, stock identification and relocation, return handling and collection points we can dramatically enhance the stockroom.
Taking these key areas, ERIKS have looked into what needs to be changed and have recognised six factors that lead to poor stockroom management:
1. Clinging on to Unnecessary Stock
From time to time engineers keep stock to avoid a slow speed of service for a future orders.
2. Tracking down Particular Parts
Engineers take some time to obtain the right tools and stock.

3. Replicating Stock
Companies with a number of different locations have the same stock in large quantities.
4. Return on Completion
Tools used by engineers can be kept for longer periods.
5. Maintaining Inventory Levels
Companies don't need to over purchase, get what you need!
6. Purchasing Energy-Inefficient Stock
Purchasing the any products is like throwing your money away
Over time TCO – Total Cost of Ownership has gone unnoticed when dealing with the stockroom, but directly affects your bills and carbon footprint. There are a number of processes in place such as barcoding and quarantine arrangement to help drop the bad habits.
Every company can benefit from making these little changes and see the efficiency, productivity and profitability improve. Want to fiind out more give us