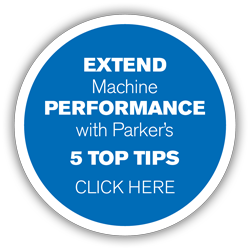 Managing industrial automation machinery is complex these days. Limited budgets and production pressures challenge busy maintenance professionals.
But small tweaks in the right places can make a big difference,
For example, cutting energy consumption is a big priority for many OEMs and end users. The good news is, improving conventional technology can sometimes achieve major savings for your business without breaking the bank.
Take a look at Parker's Top 5 Tips to improve and maintain machine performance...
Extend intervals between routine maintenance
When you're working machinery faster and harder, over time machines need a little TLC. Not easy when you must squeeze the last drop of capability from your production line. So what can you do?
Tip 1: When replacing equipment, choose quality parts that offer improved performance and reliability; a little extra spend can prolong machine life and cut downtime. Parker's PGP gear pump and T7 vane pump range, available from ERIKS, are examples.
Tip 2: The latest diagnostic or condition monitoring equipment spots potential problems and automatically alerts you to hidden nasties.

Reduce machine power consumption by up to 25 per cent
Saving energy is a big priority for many people now. No need to break the bank; sometimes improving conventional technology can achieve major savings.
Tip 3: Check you're using the best combination of conventional valves and pumps. Valves with poor flow waste energy every time you put power through them; and any unnecessary friction or heat loss from pumps is a hidden waste that never gets noticed.
Tip 4: Got a little more time or money to spend? It's worth checking out advanced drive controls and pump hydraulics – ask ERIKS for details of Parker's DCP drive control pump range.
Speed up production
If you need something quicker than traditional servo systems, new valve technologies offer extra oomph.
Tip 5: Parker's DF Plus valve offers high-speed servo-like performance. This dynamic valve can run machines faster, and its high-level control delivers better cylinder control too.
For more help making machine maintenance easier – or information on the latest technologies contact your local ERIKS service centre for assistance.
Related Posts