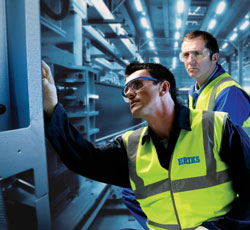 As a potential buyer of a new lighting system for your business, here at ERIKS we realise just how confusing it can be. A market where manufacturers, distributors and lighting experts converge to fight for your business, makes it hard to procure the right company for your requirements.
With rapid developments and shady manufacturers thrown into the mix for good measure, we believe it was time to tell potential customers the 5 things you should be looking for when choosing the light solutions provider for you.
5 things to expect:
Educate on new legislation
The rapid phase-out of traditional lamps may be well publicised within the lighting industry, but did you realise it was happening?
Due to EU legislation, eco-friendly and energy efficient lamps are now favoured by law to be used in business and in households too.
The EcoDesign directive or DIM2 regulation by the EU has been developed with the objective of creating an increase in customer satisfaction with energy-saving lamps.
Whatever lighting system you're looking to get installed, your lighting solutions provider should give you information on these new developments and how it may affect your business, and buying decisions in the future.
Educate on labeling
As part of the DIM2 regulation, manufacturers are required by law to adhere to uniform packaging requirements for all LED lamps.
It must include information on energy efficiency, lumens, colour, temperture, lifetime in hours, number of switching cycles, lamp dimensions, beam angle and energy consumption in kilowatt-hours too.
These have all been included to give the consumer the chance to compare lamps and lighting solutions to find the best option for them.
Every provider you speak to should give you these details, just remember to check these out and see whether there is an even more suitable solution elsewhere.
Lack of standardised dimming
Faulty lamps that have failed during dimming has been shown to be the primary reason lamps are returned as 'faulty', according to a report by the Lux Magazine.
Due to dimming ranges being unexpected and inconsistent, lamps cannot perform to the advertised standards. This, a flaw in the lighting industry, but more importantly a tough obstacle for consumers to face.
Some manufacturers have taken upon themselves to register the results of tests on their lamps in dimming situations. But these results aren't found by an independent body, and without research through the whole of the business, its hard to make a judgment on the best solution for you.
LEDs in this instance are not the best solution for dimming, but do you actually need dimming? These are things your provider should audit for you.
Independent testing
As we touched on above, without independent testing on lamps throughout the industry, it can be hard to make an assumption on what solution is best for you.
There is no body that overlooks the industry in this way, therefore it is down to your assumptions, and trusting your lighting expert, to find and install a solution that works for you.
At this point it is worth noting that going direct to a manufacturer or distributor could be a wrong decision. Whilst manufacturers will obviously push their own products as a viable solution for your business, distributors will concentrate on selling the products with the largest mark-up for themselves.
Beware of some manufacturers
Just like any other buying decision you make, if you see a cheap deal, does it always make it the best solution?
No - and the lighting industry is just the same. Cheap imitated imports, which have been found to be on sale through British sources, have been flagged as risky.
Horror stories where lamps pose an electric shock risk have been noted and condemned in the industry.
The minefield of avoiding poor manufacturers is hard, but this is where a lighting expert should shed some light to find the best manufacturers for you, and ones you can rely on.
Rely on experts
It can be easy to simply type into Google the kinds of lighting systems and lamps you require before ordering online, but the risks you are taking on your investments is large.
Working with an expert, you can avoid the hard sell from manufacturers of their own products, as well as know that any lighting system is safe, legal, eco-friendly and energy efficient for your business.
Failure to supply you with this information, and you may need to look for a new lighting expert.
Click below to request a FREE Consultation from the ERIKS LIghting Solutions team
Related Posts: