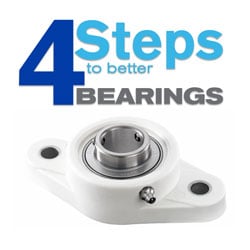 There's probably no area of your manufacturing process that hasn't been pored over in minute detail to find savings, minimise downtime and maintenance costs, and increase productivity.
But that doesn't mean there isn't still potential for an expert with specialist knowledge to identify more ways to optimise efficiency.
Working in partnership with distributors and end-users, NTN-SNR Bearings is actively promoting a Lifecycle Management process, that looks at four key moments in the life of a bearing where you can help maximise bearing life whilst reducing costs.
Step 1 – Bearing selection
Choosing the right bearing for the job seems obvious, but many applications are using bearings which could be replaced with a solution more suitable to the equipment, the process, or the operating environment. For example, a major UK food manufacturer was suffering premature bearing failures, which NTN-SNR identified as due to flushing of lubricant during high-pressure washdowns. Replacing the existing bearing with a stainless steel version with solid lubrication eliminated the problem and hugely increased the bearing service life.
Step 2 – Bearing removal
Replacing a bearing – whether because it's come to the end of its service life, has failed prematurely, or a better option has been identified – is not always a simple task. Poor removal practice can lead to damaged shafts and housings, which will inevitably shorten the life of the new bearing.
Using the correct equipment for the job, and following best practice, will:
Avoid equipment damage

Ensure the replacement bearing has the best chance of achieving its full service life potential

Reduce the downtime required for replacement.
Simply by using an NTN-SNR hydraulic nut recommended by the company, a quarry operator reduced the time taken to change spherical roller bearings on their wash plant, from 8 hours to 1½ hours.

Step 3 – Bearing fitting
Even more important than correct removal of the old bearing is correct fitting of its replacement.
As with removal, it's important to use the correct equipment and follow best practice to avoid damaging the shafts or housings. And again, as with removal, following the correct procedures with the right tools can help to reduce labour, reduce downtime, and increase the service life of the replacement bearing.
Step 4 – Lubrication
Around 55% of premature bearing failures are caused by incorrect lubrication. This covers a wide range of problems, including:
Unsuitable grade

Incorrect initial fill

Incorrect relubrication

Incorrect lubrication intervals

Incorrect lubricant quantities.
An expert survey and assessment of your lubrication procedures by NTN-SNR can identify any improvements you could make – whether in the lubricants you use or the way they are applied.
As well as helping to increase bearing life, using the most effective lubricant in the correct quantities at the right times can help to reduce the amount of grease consumed –contributing to a reduction in overall maintenance costs.
Working together with ERIKS, NTN-SNR can also provide training and demonstration packages, as part of their total Lifecycle Management service and their drive to reduce the Total Cost of Ownership of your bearings. For more details, contact your usual ERIKS Service Centre.
Related Posts