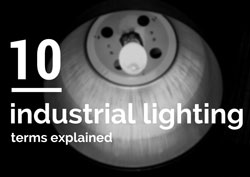 For those looking to install a new industrial lighting system into their industrial business or warehouse, it can be very confusing as to what all the lighting jargon actually means.
So to help fill gaps in your knowledge, as well as help you make a better informed decision about your industrial lighting requirements, here's 10 lighting terms explained...
10 industrial lighting terms
1 - BREEAM rating
BREEAM stands for the Building Research Establishment's Environmental Assessment Method, and it's the industry-leading environmental ratings systems for buildings. More than 200,000 buildings have been awarded BREEAM assessment ratings since the scheme was launched in 1990. BREEAM uses established benchmarks to evaluate a building's design, construction and use.
2 - CE mark
Standing for Communaute Europeenne, the CE mark is the symbol that must be stamped on lighting products (and other goods) for them to be sold illegally within the EU area. This is how manufacturers declare their compliance to EU legislation and standards on their products.
3 - Circuit watts
Circuit watts means the number of watts used to power an entire circuit, rather than just a luminaire.
4 - Colour temperature
Colour temperature describes whether a light source appears 'warm' or 'cool' - indicated by the correlated colour temperature (CCT). Lamps with a warm appearance have a CCT of 2700 - 3000k, and are considered appropriate for domestic settings. Lamps ranging from 4000k plus are more likely to be used in offices, retail and industrial spaces.
5 - Constant current driver
Constant current drivers are electronic components that are used with LED luminaires. Their purpose is to maintain a constant current to the LEDs. Drivers can be built into the luminaires or mounted remotely, and they often include other functions such as dimming.
6 - CRI
Short for colour-rendering index, the CRI is the ability of a light source to show the colours of objects properly. Lamps with poor colour rendering will distort some colours. The higher the CRI on a 0-100 scale, the more accurately the lamp will show colours.
7 - DALI
The Digital Addressable Lighting Interface is a protocol for lighting controls and dimming agreed by major manufacturers. This means technical standards must be adhered in lighting controls, as scrutinised by the AG-Dali working group.
8 - Lamp life
A rating that provides the life expectancy of a lamp. This is found by testing a sample of lamps and noting when 50% no longer work.
9 - LOR
Light output ratio is the percentage of light emitted from the light source that makes it out of the luminaire. An LOR of 70 means 30% of the light from the lamp is lost inside the reflector and light fitting.
10 - Lumens
Lumens is the measure of the total amount of visible light emitted by a source. One lumen per square metre equates to one lux.
Lighting is confusing
Even with these 10 most commonly-used lighting terms, you could still be left in the dark as to what your lighting requirements are.
If you need more help then ERIKS Lighting Solutions can give you comprehensive, professional advice offering tailor-made solutions for your business.
For an initial discussion, or to arrange a no-obligation site survey, get in touch with ERIKS.
Click below to download our Best Practice Guide to Industrial Lighting Replacement e-book
Related Topics