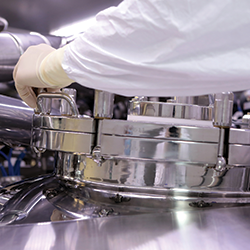 An FDA audit is a testing time – in every sense of the word – for many businesses. And even the largest businesses can find themselves falling short of requirements for FDA compliance.

In the case of one global pharmaceutical and healthcare company, it was the manway door seals on their storage vessels at one of their UK facilities which failed to meet with the FDA auditor's approval. To achieve the necessary compliance before production could start, all the seals on all the vessels – each one with a capacity of thousands of litres – had to be changed.

Faced with the potentially tricky task of finding a suitable sealing material, and given the scale of the replacement operation and the speed at which it needed to be carried out, the company called in ERIKS Seals and Polymer to lend their expertise and assistance.